Mingo Aerospace Receives Nadcap Accreditation for Coatings / Thermal Spray
September 17 2019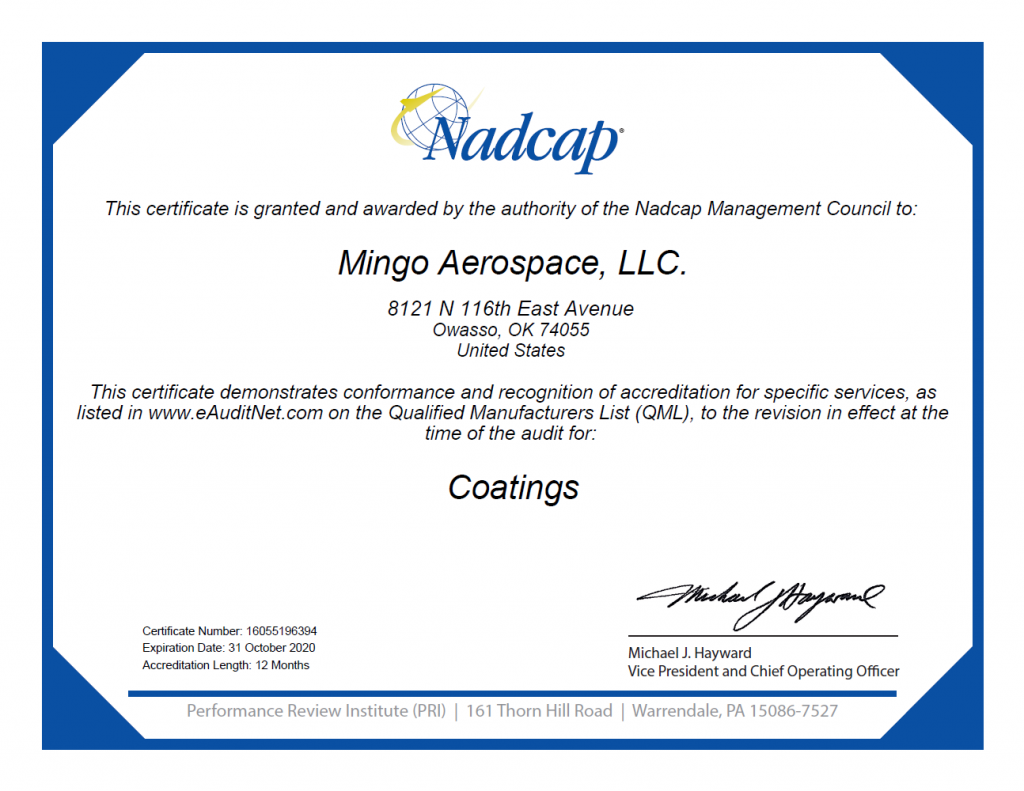 To demonstrate our continued commitment to quality, Mingo Aerospace announces that it has successfully achieved Nadcap accreditation for Coatings; Thermal Spray, Stripping of Coated Materials, Coating Evaluations, and Grinding of Coatings.
We, at Mingo Aerospace continue our drive for across-the-board Nadcap accreditation for the thermal spray business. Accreditations to date are as follows:
Surface Enhancement / Shot Peening, accredited February 12, 2019
Nondestructive Testing, accredited September 3, 2019
Coatings / Thermal Spray and Grinding, accredited September 16, 2019
Chemical Processing, scheduled Q1 2020
The aim of the Nadcap program is to assess process capability for compliance to industry standards and customer requirements. By achieving Nadcap accreditation, Mingo Aerospace has demonstrated our deep commitment to quality and our desire to grow the Coatings business by supporting aerospace OEMs and their sub tier suppliers.
Quality Coordinator, Sarah Gomez expresses Mingo's sentiments in the following, "We achieved this accreditation by utilizing the many years of expertise and industry experience represented within Mingo Aerospace. We are thankful for and proud of the contributions of the entire team."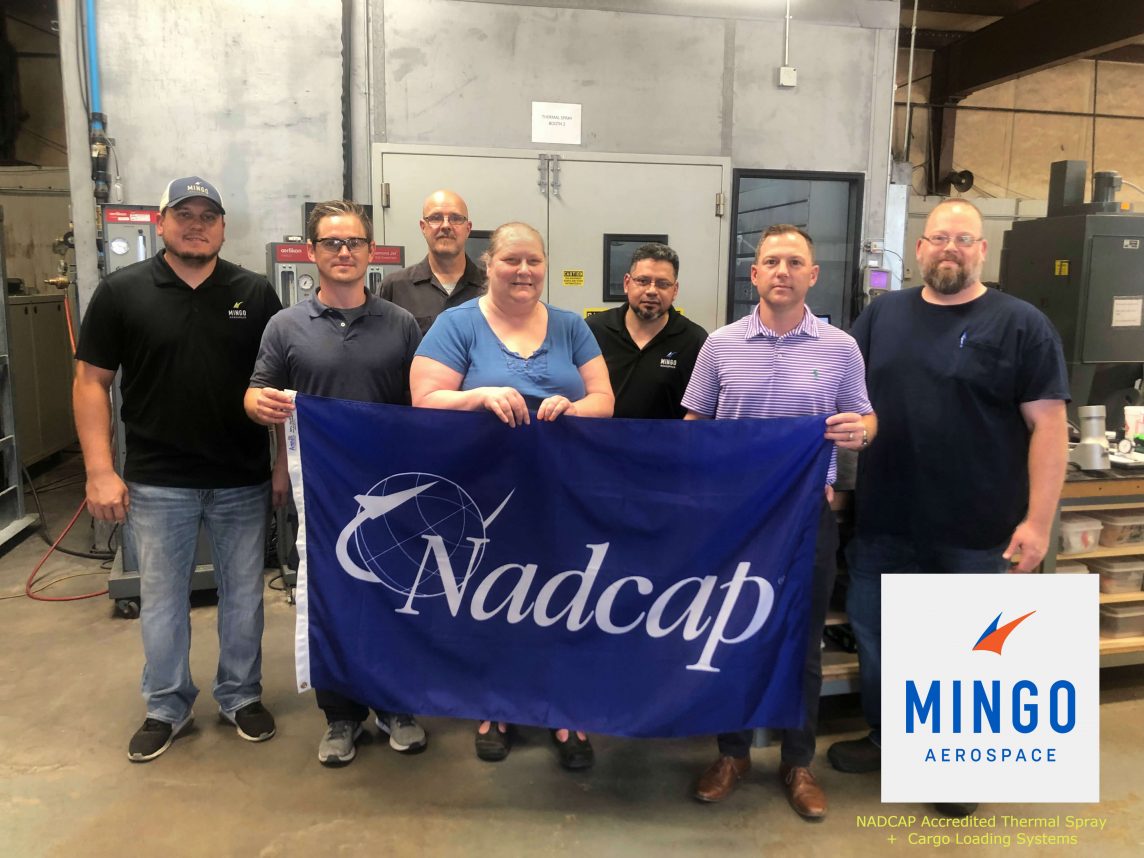 For more information about Mingo Aerospace please go to mingo.aero or email Brian Emery and bcemery@mingoaero.com.
Mingo Aerospace: SBA HUBZone Certified Small Business
August 07 2019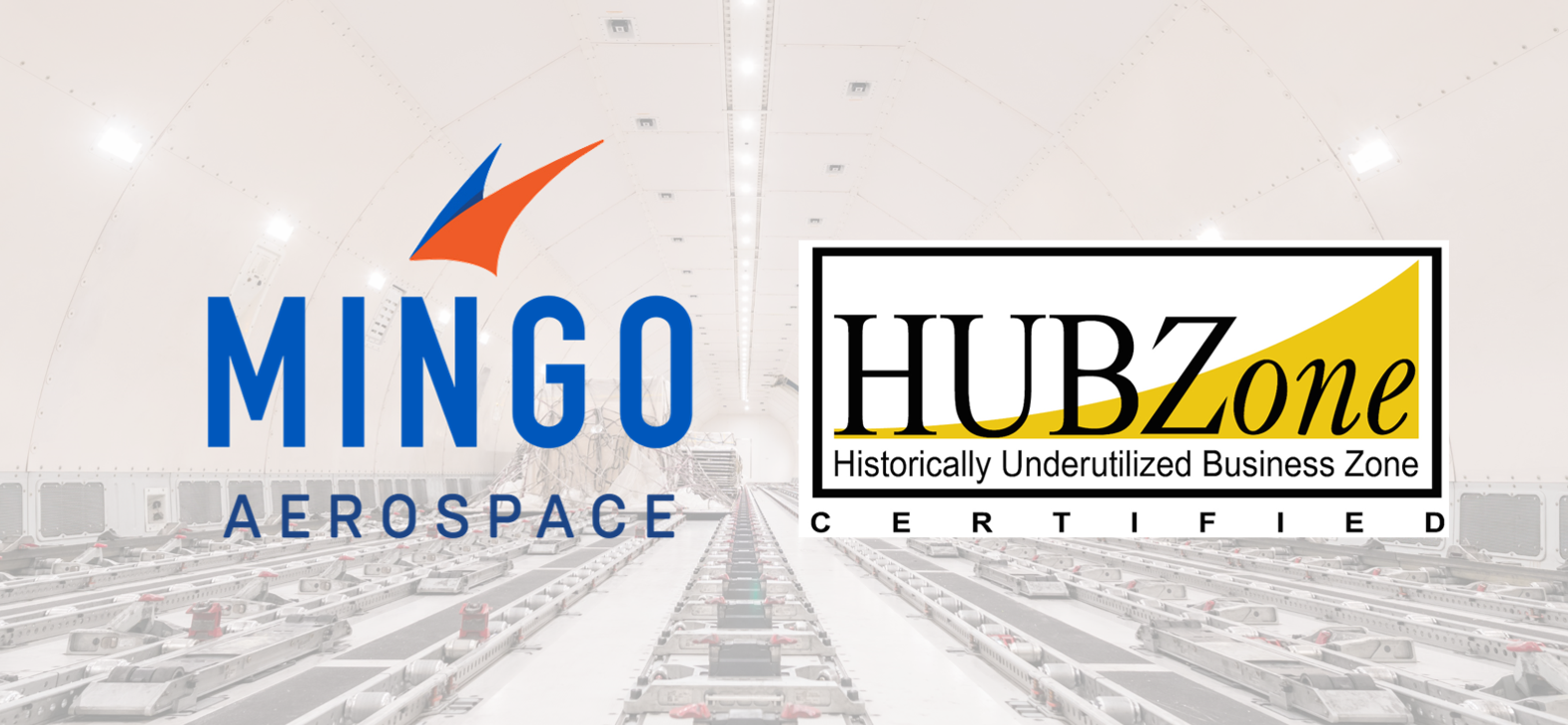 Mingo Aerospace is glad to announce its acceptance by the U.S. Small Business Administration to the HUBZone Program.
The HUBZone program was created in order to help small businesses in historically underutilized business zones participate in federal procurement opportunities. As SBA.gov explains:
"The Office of the HUBZone Program's mission is to promote job growth, capital investment, and economic development to historically underutilized business zones, referred to as HUBZones, by providing contracting assistance to small businesses located in these economically distressed communities."
Mingo Aerospace continues to invest heavily in quality and business approvals which will help to better serve its customer base in the commercial and military aerospace sectors. Mingo's recent push includes: HUBZone, Nadcap (Surface Enhancement – Shot Peen, Coatings – HVOF Thermal Spray and Grinding, and Non-Destructive Testing, AS9100 Rev. D and ISO 9001:2015.
Regarding these exciting new developments, Vice President of Operations, Jimmy Newman explains: "We are very proud of Mingo Aerospace's success in becoming a HUBZone-certified company. This approval will assist us in continued growth in our cargo and thermal spray product lines while at the same time provide expanded employment opportunities for the community."
Mingo Aerospace is an aerospace industry supplier focused on FAA repair for cargo loading systems from OEM's Goodrich and Telair and HVOF thermal spray coatings. Mingo Aerospace plans to begin partnering with OEMs for new manufacture thermal spray coatings in the aerospace industry.
Please direct inquiries to info@mingoaero.com.
Mingo Aerospace Receives USAF Approval for HVOF Application
July 16 2019

Mingo Aerospace receives qualification acceptance and approval for HVOF application on USAF Landing Gear Components.
Mingo Aerospace prides itself in providing the highest quality standards and support for its HVOF thermal spray capabilities in the commercial and military aerospace sectors. On July 11, 2019, Mingo Aerospace was approved by the United States Air Force to apply HVOF coatings on USAF landing gear components.
Mingo began offering HVOF Thermal Spray Coating and Precision Grinding as an FAA / EASA Repair Station in support of commercial airlines and landing gear stations in 2017. Today Mingo directly supports airlines and landing gear repair facilities on five continents. We have grown our business by providing industry leading turn-around-times and outstanding quality.
Mingo looks forward to working closely with the USAF and its contractors in their efforts to transition from chrome plating to HVOF thermal spray coatings on landing gear components.
Please direct any inquiries to info@mingoaero.com.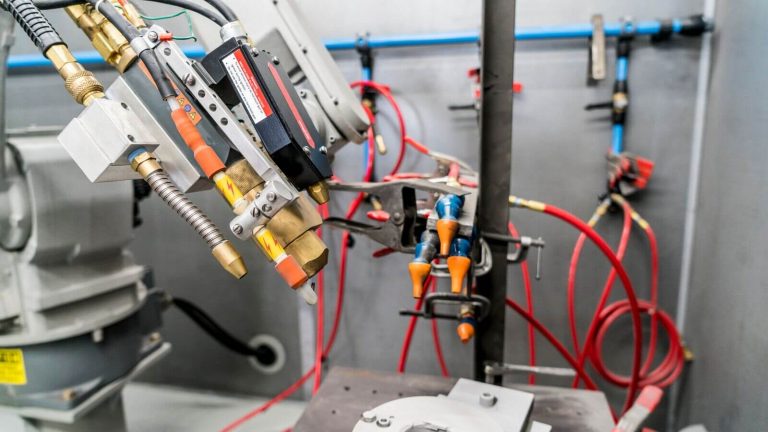 Mingo Aerospace HVOF Thermal Spray Booth # 2